Oldfield Drive
Vicars Cross
Chester
Cheshire
CH3 5LL
01244344536
Email Us
All in the month of SEPTEMBER

It was:
700 years ago, on 13th Sept 1321 that Dante Alighieri, Italian poet, died. Regarded as the most important poet of the Middle Ages. Best known for his Divine Comedy.
125 years ago, on 24th Sept 1896 that F Scott Fitzgerald, American novelist and short story writer, was born. Regarded as one of the greatest American writers of the 20th century. Best known for his novel The Great Gatsby.
100 years ago, on 8th Sept 1921 that Sir Harry Secombe was born. This Welsh comedian, actor, writer, singer and TV presenter was one of the stars of the 1950s radio series The Goon Show.
80 years ago, on 1st Sept 1941 that Nazi Germany ordered all Jews in Germany and its occupied territories to wear a yellow Star of David badge.
75 years ago, from 20th Sept – 5th Oct 1946 that the first Cannes Film Festival was held.
65 years ago, on 16th Sept 1956 that Play-Doh went on sale in the USA. It was originally sold as a wallpaper cleaning compound, but was then relaunched as a modelling compound when the inventor's nephew discovered that nursery school children were using it to make Christmas ornaments.
60 years ago, on 11th Sept 1961 that the World Wildlife Fund (now the World Wide Fund for Nature) was founded in Switzerland.
50 years ago, on 15th Sept 1971 that Greenpeace, the international environmental group, was founded in Vancouver.
30 years ago, on 6th Sept 1991 that the Russian city of Leningrad was renamed St Petersburg, restoring its original name.
25 years ago, on 27th Sept 1996, that the Taliban seized control of Kabul, Afghanistan, ousting President Burhanuddin Rabbani, and executing former President Mohammad Najibullah.
20 years ago, on 11th Sept 2001, that the 9/11 terrorist attack on the USA took place. 2,973 people were killed.
**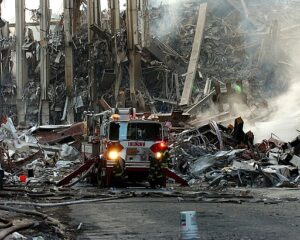 20th anniversary of 9/11 – looking back on the horror
The TV pictures looked like some macabre video game, with toy aircraft crashing into matchbox towers. Then incredulity turned into utter dismay. This was real: the most powerful nation in the world had been invaded by 19 airborne Islamic terrorists, with devastating effect. Nearly 3,000 people died.
The US government announced a war on terror. Futile invasions of Iraq and Afghanistan followed, with more loss of life.
9/11 was 20 years ago this month. Five years later, coordinated suicide attacks on London's transport system were carried out, also by Islamists. 52 people of 18 different nationalities were killed and more than 700 were injured. In 2017, 23 people died and 1,017 were injured in the Manchester Arena bombing. There have been other terrorist murders; at least three plots have been foiled during the coronavirus pandemic.
Today, the MI5 estimate of the threat of a terrorist attack in the UK hovers between substantial and severe.
The world isn't as secure as we had once hoped. In addition to the menace of unconstrained violence, our planet is silently protesting against centuries of abuse, and we're only just waking up to our accountability as stewards. At the same time, we must come to terms with the knowledge that Covid-19 and its variations are permanent additions to the list of deadly diseases to be held at bay by immunisation. There will be more to come.
Our forebears, who lived in even riskier times, drew strength from Psalm 91:
You who live in the shelter of the Most High,
who abide in the shadow of the Almighty,
will say to the Lord, "My refuge and my fortress;
my God, in whom I trust."
For He will deliver you from the snare of the fowler
and from the deadly pestilence …
The Psalm is no panacea, or divine guarantee of earthly immunity, but the assurance that God holds the whole world in His hands and His ultimate purposes will not be thwarted.
**
Just how dangerous is cannabis?
If you have a child or grandchild, it's quite possible they will have tried cannabis. Known in various forms as pot, weed, skunk, Ganga and marijuana, it's the most widely used illegal drug. One in three 17-year-olds have experimented with it and some are now regular users or addicts. Described as the 'gateway drug', one in 10 cannabis users have gone on to hard drugs.
Some claim it's a harmless recreational practice, less damaging than alcohol. It has been legalised in 18 American States, including California. Take a tourist bus tour of San Francisco, and your guide will point out the shops which are licensed to sell the drug. It is argued that the illegal use of pot was so widespread that licensing its sale was the only way to break the chain of criminal activity involved with its production and distribution. The American TV documentary series Murder Mountain suggests otherwise.
Recent research has cast doubt on the 'harmless' claim: not only does early use of cannabis increase by 37% the chances of depression in adulthood, but the drug actually causes long-lasting damage to the thinking skills and behaviour of developing brains – worse than teenage drinking. Regular use may affect the respiratory and immune systems and even the ability to procreate. Whether or not it causes cancer is an open question, but it is usually mixed with tobacco, which is undoubtedly carcinogenic.
Evidence that cannabis may reduce certain kinds of pain has been examined by the Multiple Sclerosis Society, which reports that although cannabis may benefit some with MS, it has been linked to mental health problems such as anxiety, memory loss, panic attacks and psychotic episodes.
Just before he died in 2020, Rabbi Lord Jonathan Sacks published Morality, a searching and sober analysis of behaviour in the West. In a chapter on widespread drug use, he wrote "I think of the lives that might have been saved, if figures of authority and influence had cared enough to say 'No' more firmly."
**
World Wide Fund for Nature celebrates 60 years
The World Wildlife Fund (now the World Wide Fund for Nature) was founded 60 years ago in Switzerland, on 11thSeptember 1961. It is now believed to be the world's largest conservation group, working in wilderness preservation, and reducing human impact on the environment.
A group of distinguished scientists, conservationists and businessmen, including Sir Peter Scott and Sir Julian Huxley, put the organisation together and chose its original name and the famous panda logo. It changed its name to the World Wide Fund for Nature in the UK and several other countries in 1989, but it still uses the initials WWF all over the world in advertising campaigns.
The late Prince Philip has been President of both the UK and international branches, and he was concerned particularly with encouraging faith communities to involve themselves in the environment. This led to a major conference in Italy in 1986, resulting in huge global publicity and tens of thousands of faith-led environmental initiatives around the world.
Although there has been criticism centring on the placing of environmental issues above human rights in some areas, the WWF now has more than five million supporters worldwide, working in more than 100 countries and supporting around 3,000 projects.
**
by Tim Lenton
Harry Secombe – genius for buffoonery
One hundred years ago, on 8th September 1921, Sir Harry Secombe was born in Swansea. The comedian, actor, writer, singer and TV presenter was one of the stars of the anarchic 1950s radio series, The Goon Show.
His family belonged to St Thomas Church, and his elder brother, Fred, became a Church of Wales priest. Later in life Sir Harry was a presenter of religious programmes, such as the BBC's Songs of Praise and ITV's Highway.
He met Spike Milligan during the war in North Africa and later bumped into him again at the Windmill Theatre, where he was doing comedy routines. There they also met Peter Sellers and Michael Bentine – forming the team that eventually produced The Goon Show. A natural clown with a "genius for buffoonery", Harry was the focus, and he moved on to star in a series of films, including Oliver!
He was also a talented and popular tenor. He was knighted in 1981, referring to himself as Sir Cumference in reference to his size – he was later forced to diet for medical reasons, and died at the age of 79 of prostate cancer. His tombstone bears the inscription "To know him is to love him".
**
by Tim Lenton
Dead Sea Scrolls – brought to light 30 years ago
Thirty years ago, on 22nd September 1991, photographs and transcripts of the Dead Sea Scrolls were made available to scholars generally for the first time.
The Scrolls – ancient, mostly Hebrew or Aramaic manuscripts of leather, papyrus, and copper – were first found in 1947 near the shore of the Dead Sea. They come from various sites and date from the third century BC to the second century AD.
The decision by the Huntington Library, which is in San Marino, California, to make the Scrolls public was hailed by its director, Dr William A Moffett, as a bold move "equivalent to breaking down the Berlin Wall". Up to that time access to the scrolls had been restricted to a fairly small group of 'authorised' scholars.
The Huntington photograph collection was created by philanthropist Elizabeth Hay Bechtel in 1980, with Robert Schlosser taking the actual pictures. After her death in 1987 they became the property of the library, with no agreed restrictions on their use – unlike the official collections, which certain experts reserved for their own use "to ensure scholarly accuracy".
Last year the Museum of the Bible, in Washington DC, confirmed that all 16 of the fragments it owns are modern forgeries.
**
by Tim Lenton
Remembering Dante
Dante Alighieri, the Italian 'supreme poet', died 700 years ago, on 13th September 1321. Regarded as the most important poet of the Middle Ages, he is best known for his Divine Comedy, widely considered the greatest literary work in Italian and an influence on such English writers as Chaucer, Milton and Tennyson.
Born in Florence in about 1265 but exiled from the city in 1301 amid political turmoil, Dante – a forerunner of the Renaissance – established the use of the vernacular instead of Latin in literature and helped standardise the Italian language.
His work and life were inspired by his love for Beatrice Portinari, whom he first met as a child: he claimed to be overwhelmed by her beauty. He never knew her closely, and when he was 12 his family arranged for him to marry Gemma, a member of the powerful Donati family. But Beatrice remained his inspiration, appearing in the Divine Comedy as a guide and depicted as semi-divine, in the style of a muse-like guardian angel.
The word Comedy does not indicate humour, but belief in an ordered universe: in this case it depicts a pilgrimage from Hell to Paradise, beginning with moral chaos and ending with a vision of God.